Portland, Oregon based jewellery designer Natalie Joy speaks to Meg Shops about her work.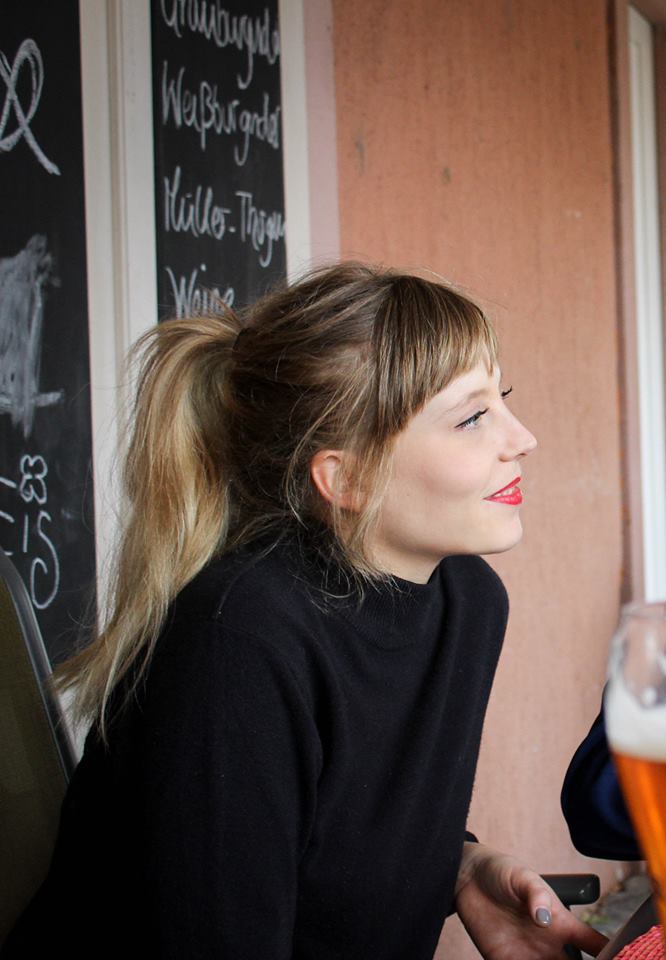 Samantha Safer: Can you tell us a bit about yourself?
Natalie Joy: I'm 30 years old living in Portland, OR and have had my own company for the past 7 years. I studied metal work in college but never focused on jewelry until after I graduated. Once I started making jewelry there was no turning back. I've always been a very visual, hands-on person. I can't remember a day where I didn't create something whether it was in metal or drawing on a napkin. I'm the kind of person who can't just sit in the grass. I have to be making a flower crown or weaving a miniature basket. It's an urge that has always been there. Oh and I like to think I could be a comedian. The highest compliment is when someone laughs at my jokes. Pretty sure all my friends and family would encourage me not to quit my day job though!
SS: Where do you find inspiration for your designs?
NJ: As with much of my jewelry, the imagery is rooted in minimalism and the Bauhaus Movement. However, my latest collection is particularly inspired by the artist statement of German ceramicist Ruth Duckworth (not an artist of the Bauhaus). I came upon her statement by chance, and her words instantly resonated with me.
"Play is the essence of creativity. Creative play and gut reaction, instinct. When I work on a piece I play. I have a whole huge section of the studio where I have an inventory of sculptural forms, simple abstract, non-specific shapes that I find beautiful and enjoy making. Then I start building these shapes together….I say, hello! I think I've got something. The process is intuitive, not intellectual."
And that is exactly how I wanted to create this collection. Instead of creating a piece that had been fully formed in my mind, I created individual components and let my intuition "collage" them together. I found that pieces were complete when I felt a very specific feeling, almost a tingle.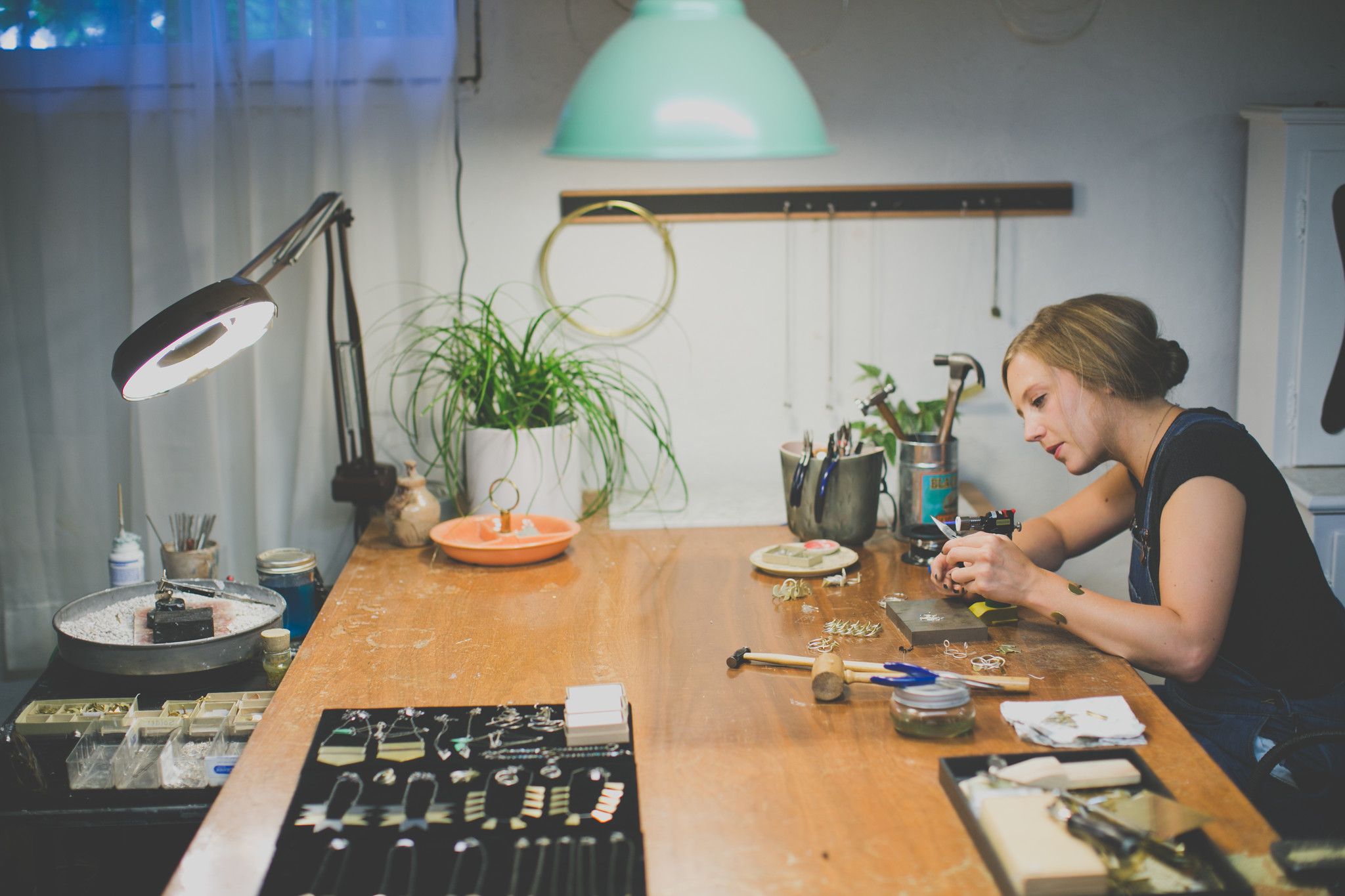 SS: What techniques do you use to create your jewellery. What is your process?
NJ: I studied metal work in college, so I use fairly traditional soldering techniques and fabrication methods. But I wasn't trained as a jeweler. I've kind of made up my personal jewelry processes along the way. Every piece starts as sheet metal that either gets sawed into shapes by me or cut into more complex shapes by a water jet machine. Then I solder, sand, form, tumble and polish each piece until it becomes a wearable piece of jewelry. I love to oxidize items to create a black finish. That requires dipping the metal in a mineral bath repeatedly until it becomes the desired shade.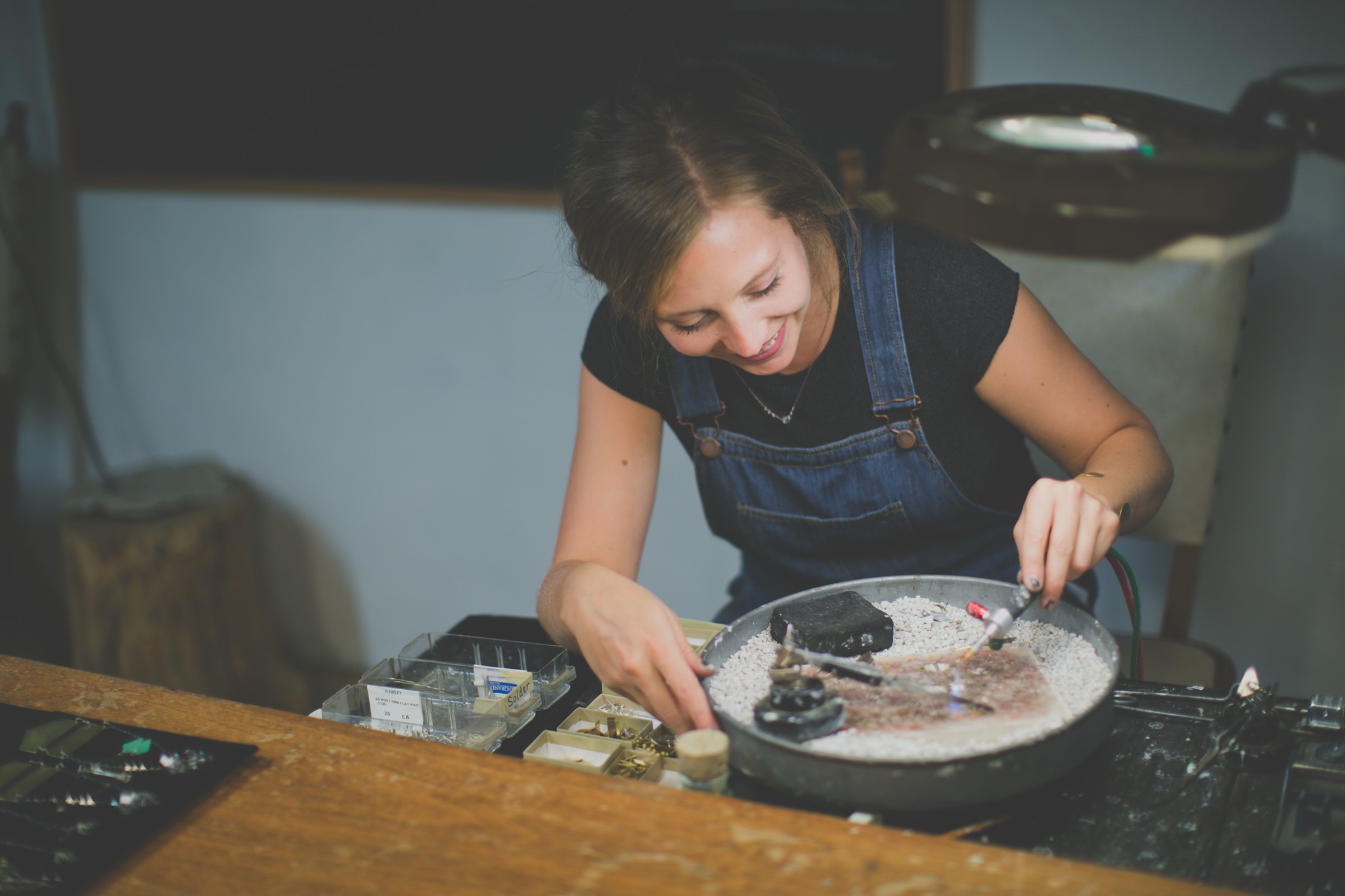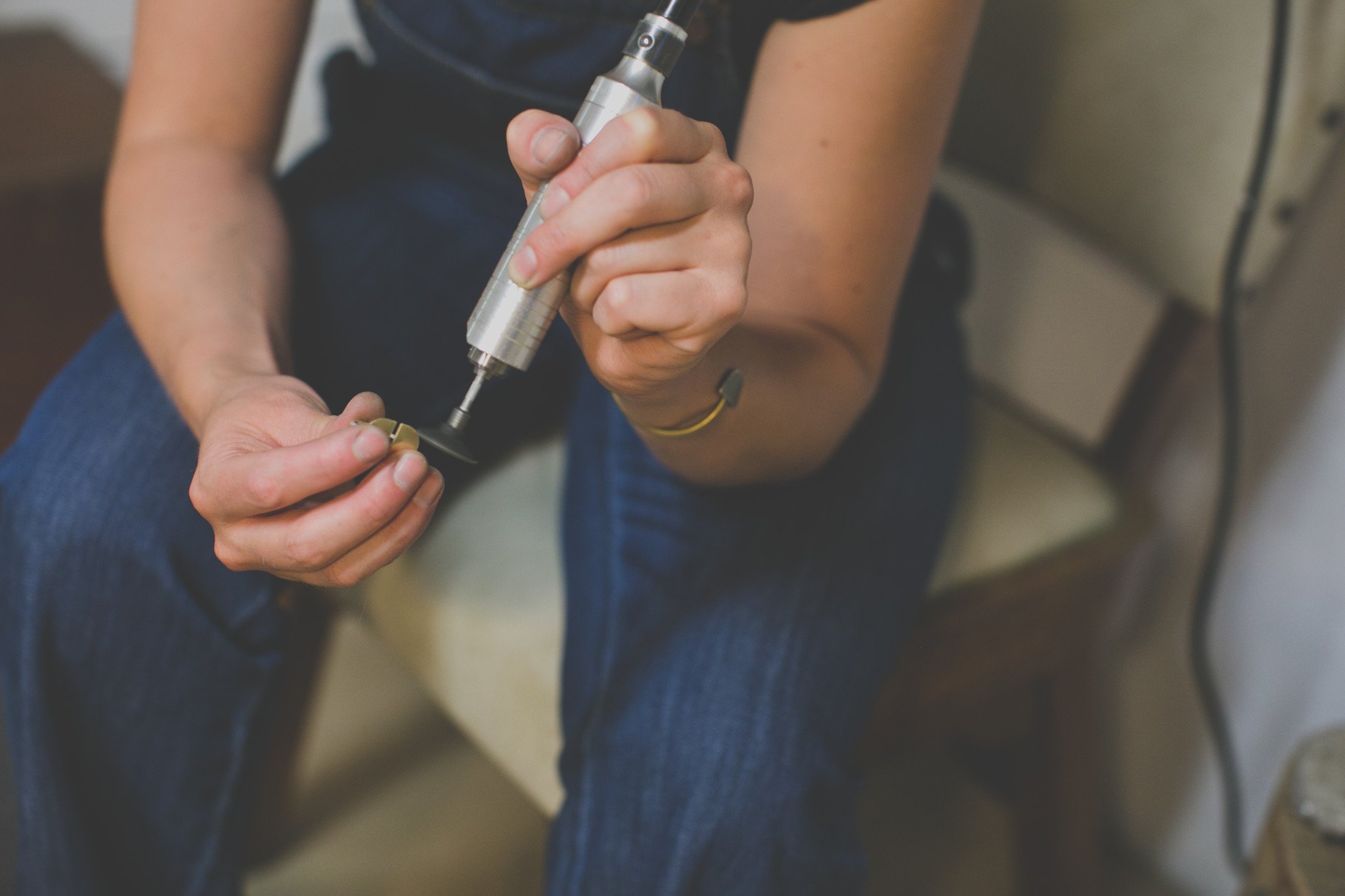 SS: You mostly work in silver and brass why did you gravitate towards those materials?
NJ: To be totally honest, when I started making jewelry I was super poor. Brass was affordable at the time, and an easy way to get the gold tones I wanted without using gold. After a while I just fell in love, and then brass gained popularity in the jewelry community. People say it's hard to work with, but I like the challenge. I started using silver and black (oxidized) components because mixing metals is fun. It also makes accessorizing an outfit so easy. Women often identify as a "silver person" or "gold person" and assign limitations to their jewelry. I say who cares?! Mix it all up!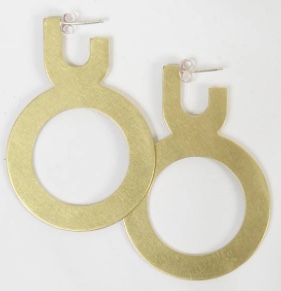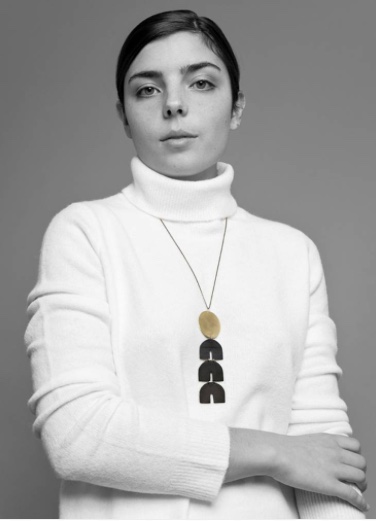 SS: We are New York brand - any fond memories or favourite places on any travels here?
NJ: I moved to the west coast when I was 18 and somehow didn't make it to New York until last spring. It was pure magic! I love how small all the restaurants and bars are. It felt like there were thousands of tiny parties happening everywhere all at once and whatever I stumbled upon was bound to be interesting. One moment we were watching live music at a wine bar, and before the night was over we were at a BBQ on a strangers balcony, exchanging stories with a professional clown (not in costume). I definitely want to go back!
Natalie's jewellery can be found in all our boutiques and online.